Senate Republicans Narrowly Defeat Democrat Plan To Gut First Amendment
Senate Republicans Narrowly Defeat Democrat Plan To Gut First Amendment
September 11, 2014
•
*American Encore President Sean Noble says that the Democrats' "Orwellian" proposal "is exactly the kind of egregious power grab that the founding fathers wrote the First Amendment to serve as a protection against."*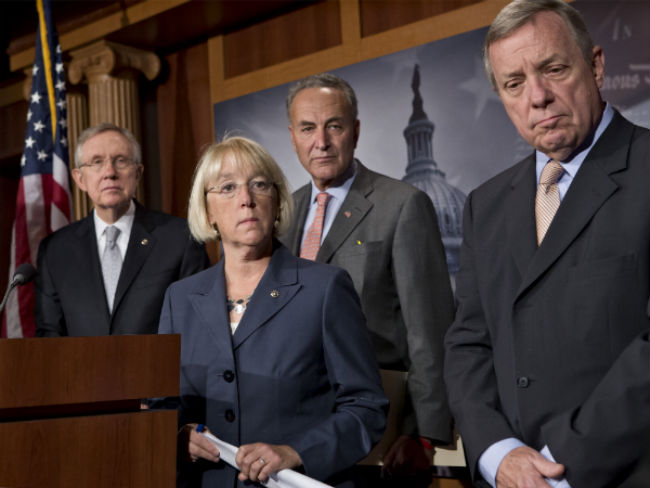 Today, we all paused to reflect and remember the tragic events of September 11th, 2001, a day that united us all and reminded us that, despite our differences, we share common values that make us American. Yet as Americans went about their days, 13 years removed from the most destructive and deadly terrorist attack in our nation's history, one of those common values came under assault –not from a foreign enemy, but from our own elected leaders.
Senate Democrats voted unanimously to advance Senate Joint Resolution 19 (S.J. Res 19), a proposed constitutional amendment sponsored by 49 Democratic Senators that would grant Congress limitless authority to control money spent on elections in the United States. Critics and constitutional scholars have warned that such a power amounts to Congress being able to control and regulate speech during elections, which is a clear violation of the First Amendment.
Luckily, a protection for the minority party enshrined in the Senate's rules allowed for Senate Republicans to stop the legislation dead in its tracks and prevent it from taking a major step in becoming the law of the land.  Democrats needed 60 votes to end debate on S.J. Res. 19 and move it a floor vote where it would have only required 51 votes to pass.
They only obtained 54, with 42 Republicans voting no. Democratic Senators Mark Pryor, Mark Udall, Al Franken, Mark Begich, Kay Hagan, Mary Landrieu, and Jeanne Shaheen, all of who are facing difficult reelection battles in the fall, voted in favor of S.J. Res 19. Four senators did not vote. American Encore President Sean Noble offered the following statement:
"What this proposal amounts to is a complete rewrite of the First Amendment that strips out the freedom of speech, allowing members of Congress, who face no term-limits besides their own life-spans, to control who is speaking out against them and what is being said during elections. In short, it is exactly the kind of egregious power grab that the founding fathers wrote the First Amendment to serve as a protection against. 
While we can breathe a sigh of relief that the First Amendment as we know it today will still be with us tomorrow, we should be alarmed at the fact that such a blatantly Orwellian proposal like this came within six votes of advancing. Without the filibuster protections, which Democratic Majority Leader Harry Reid is actively working to destroy, our current Senate would have agreed to repeal free speech.
As if Americans needed another reminder of how much is at stake in this year's mid-term elections…"