Announcing a New Path Forward: Blueprint for 2015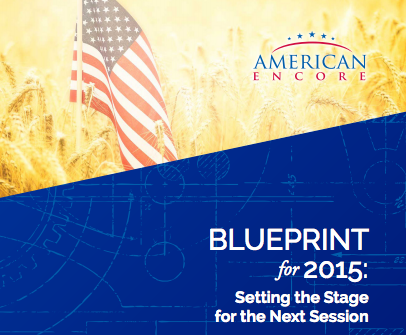 Announcing a New Path Forward: Blueprint for 2015
February 3, 2015
•
For the past six years, America has been governed through dishonesty and deception and without regard for the economic welfare of our future generations. There is no better example of this than President Obama's signature legislation, the Affordable Care Act, better known as ObamaCare:
It has been critical for conservatives to stand in ardent opposition to ObamaCare and other policies of its type. Yet, in the waining years of this administration, and with Republicans controlling both chambers of Congress for the first time since 2006, it is now time to shift our focus. With the economy still far from stable and skepticism still pervaisive, it is clear to the vast-majority of the American people that the liberal-progressive vision of top-down control of the economy does not work. That is no longer the question. The questions, instead, are, "What is the alternative?" "What is the best way forward into our still-young century?" "What does the first step look like?"
Tomorrow, American Encore will answer these questions, beginning with the release of its first major policy publication, Blueprint for 2015: Setting the Stage for the Next Session. This policy booklet, written by American Encore Policy Director Patrick Hedger, is a detailed breakdown of the problems faced by Americans in six specific areas of economic policy:
Jobs
Federal Spending, Debt, & Deficits
Regulation
Energy
HealthCare & ObamaCare
Taxes
Following the thorough analysis of the state of policy in each of these areas, legislative solutions are offered, with unmatched detail, to begin making the necessary improvements to nation's economy with tangible results for the American people. These solutions are common-sense and often enjoy bipartisan support, yet remain consistent with free market economic principles. With Republicans controlling all of Congress, these ideas finally have a chance to be heard, debated, and presented to the American people. It's time to do so.
American Encore is an organization dedicated to the belief that America's best days lie ahead of us, not behind. But the next great American century is not a time we can wait for. Instead, it is a place we must travel to. Blueprint for 2015 is our map for the first few steps on this critical journey.
 
The document will be available online for free this week. Follow American Encore on Facebook and Twitter for updates.
***American Encore is an organization dedicated to defending freedom, promoting free markets, working to expand economic opportunity and making the case for the American ideals of liberty and democracy, both at home and abroad. For press, please contact Lisa De Pasquale at lisa@dc-london.com.***